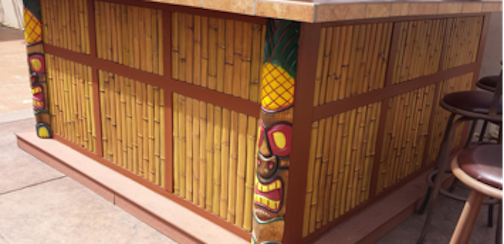 Looking for a fun way to entertain in the backyard? If tropical breezes are flowing through your parties…why not add your own flair with a tiki hut? With Texture Plus faux wall panels, you'll see just how easy it can be.
One of our customers, S. Rodriguez, decided it was time to freshen up his Tiki bar, just in time for summer and backyard parties.  He started with Texture Plus Bamboo wall panels.  We offer Bamboo panels in lots of different finishes and sizes….so pick out your favorite for your own tiki bar!
Here's our Bamboo Large Interlock in Young:
Here's Rodriguez's 'Before' picture……
Next….Rodriguez applied Texture Plus Adhesive and affixed his new Large Bamboo Weathered Panels .
As simply as that, the finished product was ready for many nights of fun to come!
Here are the 'After Texture Plus' pics:
Once you complete these simple steps, it will be time to just sit back and enjoy. Your makeover will be complete and will surly made all the difference. Ready to pull up a stool?!
No matter what you want to fix, update, or make over don't be afraid to try our easy-to-install wall panels! Let us know how Texture Plus has helped in your projects, and you could be featured on our next social media shout out!